The ultimate fusion of toughness and efficiency in commercial-grade lighting, tailored to suit a vast range of applications, including industrial, retail, athletic, and warehousing.

IP66 & IK10 Enclosure Rating
Optics for Aisles, Narrow Aisles & Open Areas

5000K CCT

5-Year Warranty
With a selection of beam angles, the LHB Series of Linear High Bay LED Lights adeptly illuminate open spaces or aisles. Tough, fully sealed housing provides maximum resistance against dust, bug intrusion, water jets, and impacts. Easily install using suspension wires or ceiling mount brackets. With five lumen packages offering a luminous efficacy of up to 149 lm/W and a 5-year warranty, the LHB Series is the ultimate reliable and efficient lighting solution for your high-ceiling environments.
View full details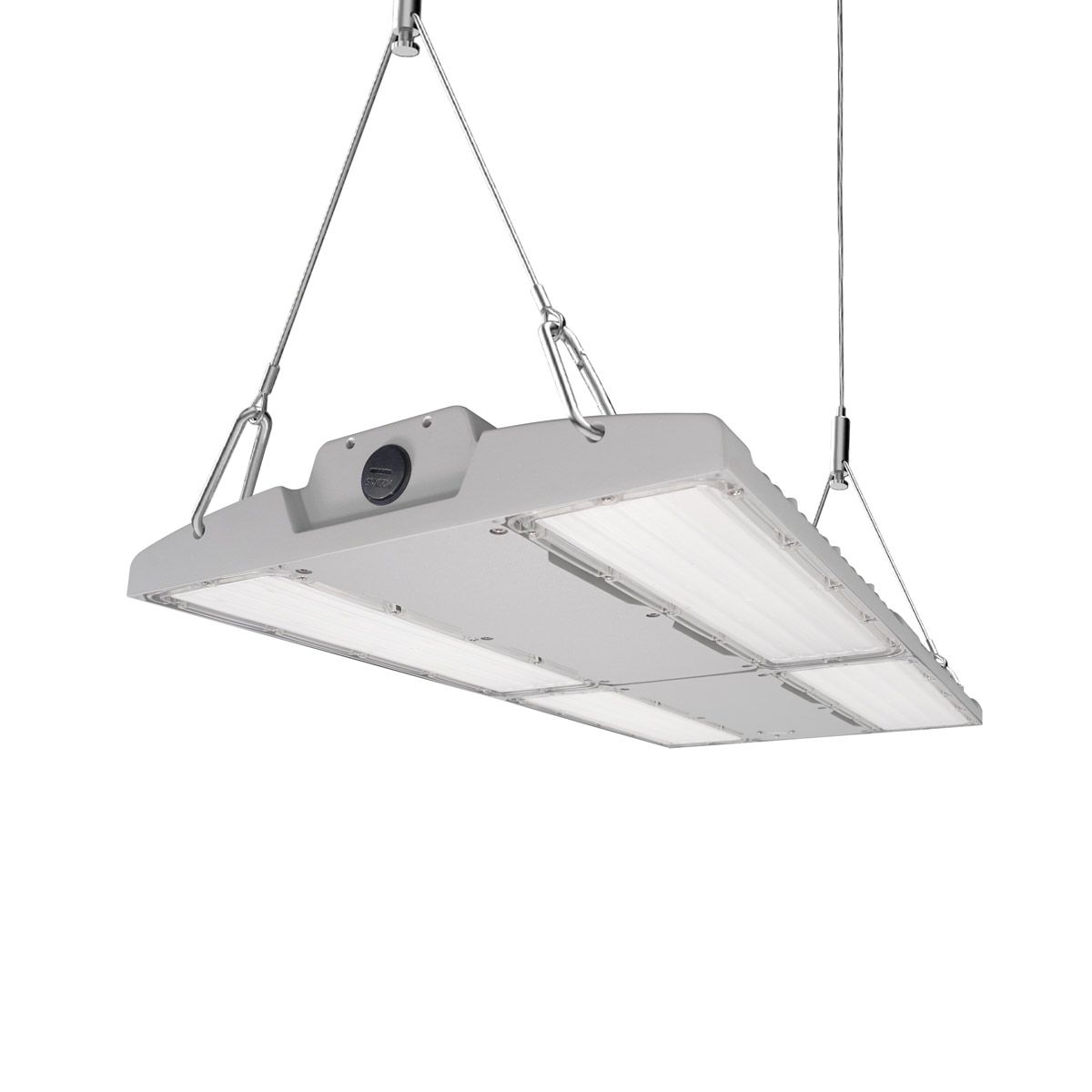 Select Your LHB Linear LED High Bay
With five lumen packages and five beam angles to choose from, you're sure to find the right light for your needs.
*IES file links on this page may not contain an IES file for every available configuration of the model.
DETAILS
A Configuration for Every Application
Elevate your lighting standards with our tough and efficient series of Linear High Bay LED Lights.
These commercial-grade luminaires are the ideal choice for industrial, retail, athletic, or warehouse high bay lighting, with robust performance in any setting, from indoor sports arenas to supermarket aisles. Optimize for your space with five beam angle options that make these high bay lights suitable for both open areas and more narrowly confined spaces such as aisles, racks, or assembly lines.
Built Tough and Bright
With an impressive IP66 & IK10 enclosure rating, these LED industrial light fixtures resist dust, bug intrusion, water jets, and impacts, ensuring longevity even in challenging conditions. Offering five lumen packages, these high-ceiling luminaires deliver outstanding brightness and efficiency, with a luminous efficacy of up to 149 lm/W.
Three Installation Options
Installation flexibility is key with our LHB Series LED Linear High Bay lights. They come ready for suspension mounting, while optionals ±60° rotatable or fixed mounting brackets allow for ceiling mounting the fixtures with precise light direction. These LED lighting fixtures excel in a wide range of environments, from traditional commercial spaces to more demanding locations such as modern logistics centers, grain processing plants, indoor swimming pools, professional kitchens, and various sports facilities.
You're Protected
Backed by a 5-year warranty and equipped with 6kV line-line and 10kV line-earth surge protection, the LHB Series of Linear High Bay LED Lights provide reliable, efficient lighting solutions that truly go the distance.
DOWNLOADS
LHB Series Data Sheet
KEY SPECIFICATIONS
Lumens Package
100W - 14,000 lumens
150W - 21,000 lumens
200W - 30,000 lumens
300W - 42,000 lumens
400W - 56,000 lumens
System Efficacy
147 lm/W (4000K models), 149 lm/W (5000K models)
CRI
>80
CCT
4000K or 5000K
Beam Angle
80° x 100° wide aisle
60° x 100° medium aisle
25° x 85° narrow aisle
60° open area
90° open area
Projected Lifetime
50,000 hours
Enclosure Rating
IP66, IK10
System Watts
Available in 100W, 150W, 200W, 300W, or 400W
Input Voltage
Available in 100-277 VAC or 277-480 VAC (400W available only in 100-277 VAC).
Surge Protection
6kV line-line, 10kV line-earth
Warranty
5 Years
Certifications
DLC, ETL
DLC Listing Primary Use Category
High-Bay Luminaires for Commercial and Industrial Buildings
Accessories
Mounting options: Use a safety line for hanging installation, or install an optional fixed ceiling bracket or a ±60° adjustable bracket for ceiling mounting.
Sensors: Dimming capability is included. Add more controls with a microwave or PIR motion sensor and/or a daylight sensor with daylight harvesting function. Motion sensors are IP65 rated, daylight sensor is IP20 rated. A remote controller is available for programming.
Choosing a selection results in a full page refresh.
Opens in a new window.