With an industry-leading efficacy of 200 lumens per Watt, these LED high bay luminaires give you the bright light needed for high ceiling applications at the lowest energy cost. These high bays provide excellent illumination for applications with ceilings anywhere between 20 feet and 40 feet.
Wattage selectable
12,000 to 48,000 Lumens

5000K or 4000K CCT
Four available beam angles
IP65 & IK08 Enclosure Rating
5-Year Warranty
View full details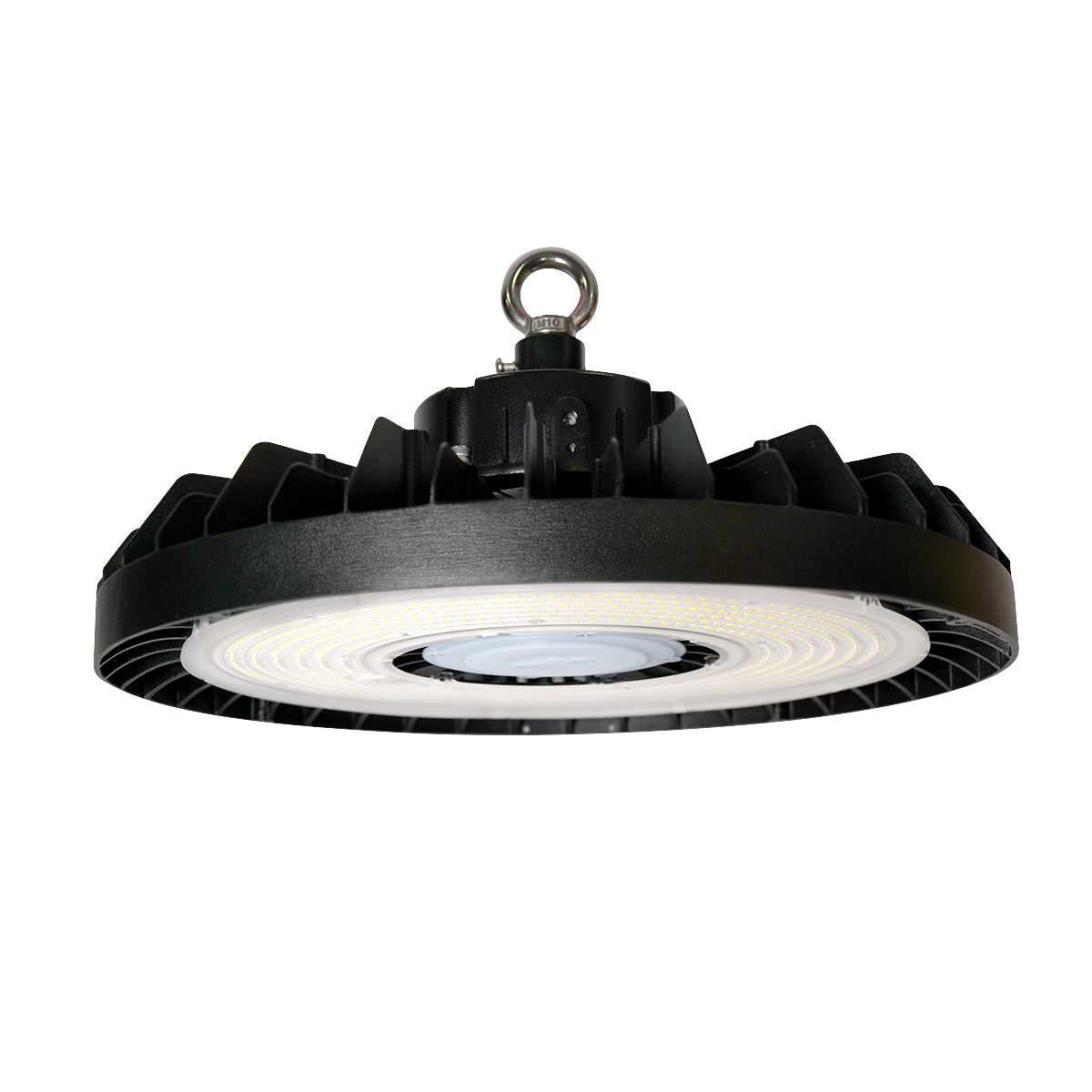 Select Your High Efficacy UFO LED High Bay
All RHB02 series led high bay lights feature ultra-high luminous efficacy of 200 lm/W, plus four beam angle options to meet wide- to narrow-angle high ceiling lighting needs.
*IES file links on this page may not contain an IES file for every available configuration of the model.
DETAILS
Introducing the RHB02 Series of High Lumen Round LED High Bays: your solution to high-impact, flexible, and energy-efficient lighting. Boasting an impressive efficacy of 200 lm/W, these high bay lights provide powerful illumination for a wide range of high ceiling applications.
Heavy-duty IP65 and IK08-rated housing
Wide, medium, and narrow beam angles
4000K or 5000K color temperature
Power-selectable, with three or four field-selectable power settings per model
Lightweight (under 10 lbs)
Includes stainless steel loop for hanging; other mounting options available
Rebate eligible
The RHB02 series is wattage selectable. Choose from any one of five wattage packages and get three to four light output settings in each, ranging from 12,000-20,000 lumens for the 100W model to 30,000-48,000 lumens for the 240W. This feature allows you to adjust each model's wattage according to the specific needs of your space, whether it's a large open area or a location with different ceiling heights. This one-light-fits-all approach simplifies ordering and inventory management, as you can handle a variety of lighting conditions with a single SKU.
The RHB02 Series allows for further customization with your choice of 4000K or 5000K CCT, and four beam angles—120°, 90°, 60°, and 40°. With these angles, the RHB02 series provides optimal lighting for large open spaces, narrow aisles, assembly lines, and workbenches alike, ensuring no corner is left in the dark.
Built for endurance, the RHB02's powder-coated aluminum-alloy housing is both IP65 and IK08 rated, offering superior protection from dust, water, and impact. Additional safeguards come in the form of 4kV line-line and 6kV line-earth surge protection.
Each luminaire's Lifud driver comes with 0-10V dimming capability, allowing you to adjust the light level to match your requirements. For additional control, an integrated sensor receptacle allows for the addition of a plug-and-play bi-level microwave motion sensor.
Installation is easy and versatile with the included stainless steel loop for chain hanging, while brackets are available for fixed ceiling mounting, adjustable angle mounting, or pendant mounting.
These high-efficacy (200 lm/W) LED high bay luminaires are suitable for a wide range of indoor spaces, including warehouses, fulfillment centers, hangars, barns, big box stores, gymnasiums, arenas, exhibition halls, and more.
Guaranteed to meet rigorous standards, the RHB02 Series is DLC and ETL listed and comes with a 5-year manufacturer's warranty. Choose the RHB02 Series of High Lumen Round LED High Bays for superior brightness, flexibility, and efficiency in your lighting solutions.
KEY SPECIFICATIONS
Lumens Package
Dependent on power selected at install.
100W Model: 20,000 lm at 100W, 16,000 lm at 80W, and 12,000 lm at 60W
120W Model: 24,000 lm at 120W, 20,000 lm at 100W, 16,000 lm at 80W, and 12,000 lm at 60W
150W Model: 30,000 lm at 150W, 24,000 lm at 120W, 20,000 lm at 100W and 16,000 lm at 80W
200W Model: 40,000 lm at 200W, 30,000 lm at 150W, 24,000 lm at 120W, and 20,000 lm at 100W
240W Model: 48,000 lm at 240W, 40,000 lm at 200W, 35,000 lm at 175W, and 30,000 lm at 150W
System Efficacy
200 lm/W
CRI
> 70
UGR Level
<25
CCT
4000K or 5000K
Beam Angle
120°, 90°, 60°, or 40°
Average Lifetime
L90: 40,000 hours
L80: 84,000 hours
L70: 134,000 hours
Controls
0-10V Dimming included, microwave motion sensor available
Enclosure Rating
IP65, IK08
System Watts
See lumens packages at top of specs
Input Voltage
100-277VAC
Surge Protection
4kV line-line,6kV line-earth
Warranty
5 Years
Certifications
DLC, ETL
DLC Listing Primary Use Category
High-Bay Luminaires for Commercial and Industrial Buildings
Accessories
Reflectors: Aluminum reflector with a 90° or 100° beam angle and a polycarbonate reflector with a 90° beam angle.
Mounting options: Fixed bracket, ±60° adjustable bracket, and pipe mount bracket.
Sensors: Plug-and-play bi-level microwave motion sensor and sensor remote controller.
Choosing a selection results in a full page refresh.
Opens in a new window.