Premium illumination for high ceiling spaces faced with environmental challenges. 
Up to 30,000 lumens
Fixed or selectable wattage
Fixed or selectable CCT
Optional motion sensor and backup battery
Boasting IP67, IK10, and NEMA 4X enclosure ratings, plus NSF certification, this light's housing is built to protect from dust, bugs, debris, and water ingress, resist corrosion, and withstand impact, while also being safe for use in food and pharmaceutical environments.
View full details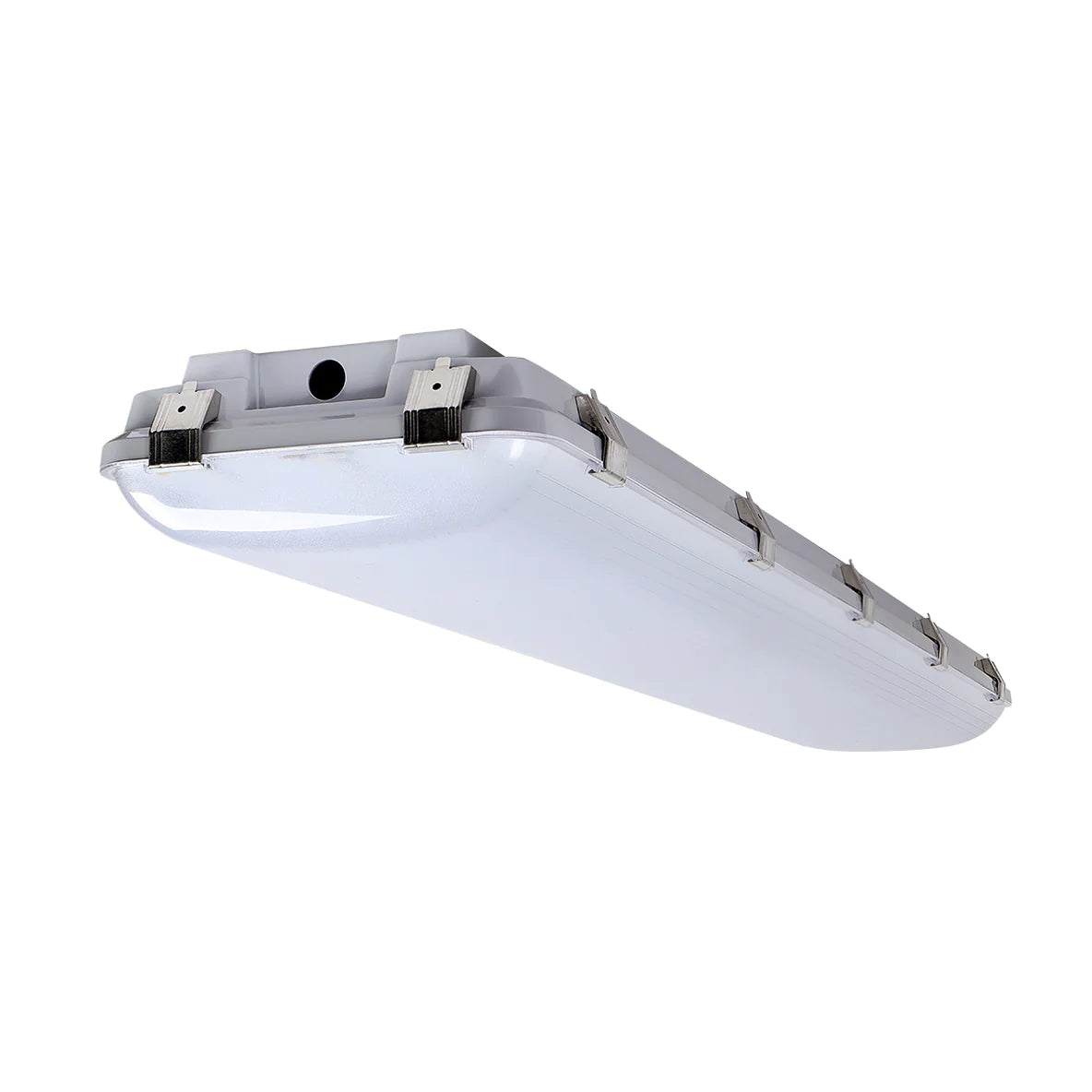 Select Your Vapor Tight High Bay
Our 4V02 LED High Bay Vapor Tight Luminaires are available in an impressive range of models. We've broken them down to two categories: without motion sensor and with motion sensor. Find the best model for you or your customer's application below.
4V02 Standard Models (No Motion Sensor)
These luminaires are for applications that need the best in durability and illumination for challenging environments, but where motion/occupancy sensing capability isn't required.
4V02 Motion Sensor Models
All the best features of the 4V02 LED vapor tight high bay with the extra control offered by a built-in motion sensor.
*IES file links on this page may not contain an IES file for every available configuration of the model.
DETAILS
Introducing the 4ft Field-Selectable High Bay Vapor Tight Luminaire, your go-to solution for high-ceiling applications where moisture, water, dust, or corrosion is a concern. This completely sealed LED fixture is built to withstand tough environments like barns, car washes, factories, marinas, and other locations where the light will be exposed to water, humidity, excessive dust, or corrosive salt. It's also NSF-rated and shatterproof, making it perfect for use in food processing plants and commercial kitchens.
Our selectable models offer the flexibility of choosing from 4 power and 3 color temperature options during installation, allowing for lighting levels and tones to be selected at install to meet the needs of different zones within a facility or across separate buildings. These selectable models are also an ideal option for bulk buying and stocking.
We also offer fixed wattage/CCT-selectable options in the 100W and 150W models, if you just need the color selection functionality.
IP67, IK10, and NEMA 4X rated housing
NSF certified
Suitable for use in temperatures down to -40°F
Choose from a range of fixed wattage models, or order a wattage-selectable model for the ability to set the best lighting level for each of your spaces during install
The same is true of color temperature: Go with a fixed 3500K, 4000K, or 5000K CCT, or choose CCT-selectable
Surface-mount installation is quick thanks to stainless steel spring clips. You can alternately suspension mount this luminaire (chains not included)
Available with or without built-in motion sensor and/or emergency battery backup
This luminaire is DLC 5.1 Premium Listed as a High-Bay Luminaire for Commercial and Industrial Buildings, qualifying it for higher rebates
With its worry-free and cost-effective features, our 4ft LED Vapor Tight High Bay Luminaire is the perfect lighting solution for all of your tough environments.
KEY SPECIFICATIONS
Lumens Packages
75W Model: 10,500 lumens
100W Model: 14,000 lumens
150W Model: 21,000 lumens
180W Model: 25,200 lumens
210W Model: 30,000 lumens
Selectable 155W/135W/125W/100W Model: Up to 21,700 lumens
Selectable 180W/155W/135W/105W Model: Up to 27,000 lumens
System Efficacy
Up to 150 lm/W
CRI
> 80
Beam Angle
110°
Dimming Capability
0 to 10V
CCT
All Fixed Wattage Models: 3500K, 4000K, or 5000K
100W and 150W Fixed Wattage Models: Selectable 3500K/4000K/5000K available
Selectable-Wattage Models: 3500K/4000K/5000K Selectable
Projected Lifetime
54,000 hours
Enclosure Rating
IP67, IK10, NEMA 4X
Input Voltage
120-277VAC standard, 120-347VAC by special order. 150W model also available in 277-480VAC.
Dimensions
49.88" x 10" x 4.07"
Warranty
5 Years
Certifications
DLC Premium, ETL, NSF, NEMA 4X, FCC
DLC Listing Primary Use Category
High-Bay Luminaires for Commercial and Industrial Buildings
Choosing a selection results in a full page refresh.
Opens in a new window.